---
A STUNNING AND BEAUTIFUL 'HEIRLOOM QUALITY' GIFT
---
Shropshire Rocking Horses are individually made by artist Susan Barker, in a studio workshop in the centre of an original cobbled stableyard at an Edwardian farmhouse, in the countryside near Shrewsbury, Shropshire.
Using traditional Victorian methods, each of the rocking horses are hand carved and hand painted using the finest selected hardwoods, including traditional gesso applied prior to painting, finished in traditionally dapple grey (or bespoke and contemporary finishes if requested), with care and attention to detail at every stage!
The finished rocking horses exhibit a much more 'realistic' look than most and have been inspired by the classic F H Ayres antique rocking horses which are now treasured collectors items and can change hands for around £5,000 each but often they are too valuable as collectors' items to actually be used as toys anymore.

Traditional methods used for all rocking horses - carefully prepared from individual sections of carefully selected quality woods, the rocking horses are lovingly carved, gessoed, hand painted, mounted on stand, and tacked up ready for their new owner!
---

Hand-carved rocking horses, British made - all the horses are individually carved by hand, using only local services and supplies wherever possible with care for the environment in mind and sustainably sourced timber
---

Rocking horses restored and special commissions - rocking horses restored with care and attention to detail at each stage to preserve the original character of the horse - also special commissions undertaken for bespoke or contemporary rocking horses.
---
Beautiful new traditionally carved Victorian wooden rocking horses make a perfect gift to treasure and become a lasting family heirloom that will be loved and cherished for years to come.

The rocking horses are carved with love and care by Susan Barker, a designer and wood sculptor (herself an experienced horsewoman),"Rocking horses bring the tactile and graceful lines of the horse with its timeless elegance and beauty into the hearts and homes of many, to be loved and cherished, by generations to come - it is lovely to create something unique and lasting - one moment it is an inanimate piece of wood and then as the work progresses, it transforms into a creature of beauty and spirit - unique with its own life - with a magic that inspires the imagination of both young and old alike."
"I have always loved horses for their sheer beauty and sensitivity, their ability to communicate through minute and delicate sensory movements - capable of forming unique relationships and bonds with humans. I make each rocking horse as an individual, there are no two rocking horses exactly alike and each develops its own character as it is created."
"If you have a memory of a treasured special horse that is no longer here, from photographs I can create a rocking horse with a likeness, using supplied or matching mane and tail hair, with body markings and colourings painted to match - for a special and lasting memory."
Finished rocking horses may be available to purchase and bespoke commissions are available where you can choose a finished body colour, type of saddlery, colour of saddle cloth and a personal message for the brass plate on the stand, allowing up to 16 weeks from order.
Hand-carved and painted in United Kingdom, the rocking horses are made individually, hand-crafted, and using local services and supplies wherever possible with care for the environment in mind.
The paints comply with toy safety recommendations and child-safe paint is used on the rocking horses which are normally mounted on safety rocking stands - kinder to 'little toes' than the bow rockers - although bows can be fitted if preferred.
Rocking horses are available from £750 - £3500, as well as restoration horses, please see horses currently for sale, telephone 01952 740280, or email for further information.
---
---
Initially I select individual lengths of good quality kiln dried and planed hardwood which is then individually cut, sawn and shaped according to the size and style of rocking horse being made ready for initial carving.

The head is the first to be carved - this is carved almost completely - with fine details including ears, nostrils, eyes, cheek bones and upper neck muscles - adding additional pieces of timber to form muscle blocks which are then carved, this is then put to one side to rest while each of the legs are roughly shaped ready for attaching to the horse body.
Next, the individual pieces are sawn and prepared to make the body of the horse with angled cuts recessed into the wood to give the splay of the horses legs. The body of the horse is actually hollow in the centre should you wish to request a special momento to be placed inside. Then the 'box' is finally glued and clamped tightly together.
The legs are then joined to the body and muscle blocks added and glued ready for later carving. The head is then joined to the body and further timber muscle blocks added - then the whole horse is ready for final carving.
When all the detailed carving is completed, the mane and tail are added and the glass eyes are carefully fixed in place, the horse starts to take shape as an individual with its own character.
When all the carving is completed and sanded down, the gesso is mixed and heated and cooled to a jelly. Then over six coats of gesso are painted over the rocking horse giving it a smooth surface on which to start the painting.
The horse is undercoated and sanded down before the fine hand detailing painting for the eyes, teeth and markings on the body, when completed the whole horse is finished in several coats of satin varnish or a special antique finish to protect the body.
Most rocking horses are supplied with a safety stand which made from hardwood and has hand-turned columns and is finished in satin varnish to protect and enhance the wood grain. Bow Rockers can be requested if required but require a good deal more space when in use.
The horse is finally 'saddled up' with the leather saddle and bridle, removable or fixed, and saddle is fitted with adjustable stirrup irons. The horse is tested on the rocking stand for perfect balance and to give the perfect ride ready for its new owner!
---
Traditional British made dapple-grey wooden rocking horses with real leather saddlery including a removable bridle, hardwood ash safety rocking stand, brass fittings, real horsehair mane and tail - a lasting and precious gift. The following details relate to a large size rocking horse:

• fine muscle definition
• real horsehair mane and tail
• traditional hand carving
• leather saddlery with padded saddle
• removeable leather bridle with brass fulmer snaffle bit
• traditional gesso base - minimum 6 gesso paint coats
• kiln-dried sustainably sourced Jelutong hardwood body
• kiln-dried sustainably sourced hardwood ash safety stand
• individually carved
• medium oak finish safety rocking stand with satin varnish
• environmentally sensitive production
• brass accessories and buckles
• oil based paints comply with EU toy safety regulations
• size mounted on stand: height 44" x width 24" x length 60"

Excellent rocking mechanism on ash hardwood safety stand, with satin finish, and supplied complete with brass plaque which you may add your own personal message.
Ring 01952 740280 or EMAIL for details on price and availability - delivery can be arranged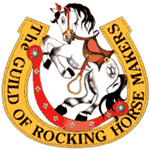 Member No 452 Guild of Rocking Horse Makers
SUSAN BARKER
---
Shropshire Rocking Horses, Uckington Farm, Uckington, Shrewsbury, Shropshire. SY4 4UL
---